LUNCH WITH A LEADER
Lunch with a Leader affords students the opportunity to network with business, entrepreneurial and community based leaders from companies such as BET, McDonald's, US Cellular, Pepsi, Clear Channel, FedEx and many more. Lunch with a Leader strives to enhance networking skills, communication skills and leadership skills. During interactive workshops, leaders share with youth how education contributed to their success as well as critical keys to success.  The Support Group's Lunch with a Leader has reached over 2000 students across the Chicago Public School system. Past schools include Whitney Young HS, Morgan Park HS, Julian HS, Hyde Park Academy HS, Brooks College Prep, South Shore International HS, Kenwood Academy, Gary Comer, Prosser HS, and many more.
YPAM PEACE AMBASSADOR PROGRAM
The support group, together with Heartland Alliance, is fighting to eradicate the violence impacting Chicago communities through the Leadership and Peace Academy Program. The program is developing a core group of teen Peace Ambassadors who will develop the critical mass necessary to change the culture of violence that currently exists. In partnership with international human rights and sports institutions, this initiative is developing culturally competent teen Peace Ambassadors who can ensure that peaceful behaviors and a non-violent consciousness flow through every aspect of student, family and community life. The program will serve 6 Chicago Public High Schools, eventually reaching every student at those schools across the next four years. To ensure successful outcomes, our youth need a commitment from all of us to guarantee they are successful in their life journey as we create the leaders of tomorrow.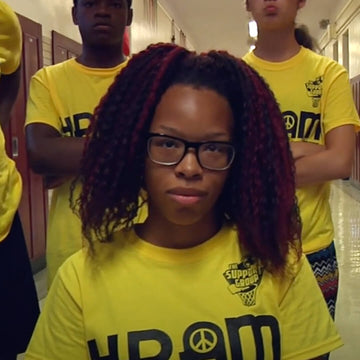 TEEN EMPOWERMENT SUMMIT
Teen Empowerment Summit 1,000 Chicago teens participate in a day of self expression and information sharing regarding topics of self-esteem, career exploration, higher education, financial literacy and other youth related issues. The Summit encourages teens to become advocates for peace in their communities, schools and amongst their peers.
TSG INSTRUCTIONAL BASKETBALL CLINICS
TSG Instructional Basketball Clinics & LPA is a program which allows students to stay fit and active through daily exercise, develop advanced basketball skills from NBA players and coaches, learn the importance of team work and sportsmanship, understand the importance of maintaining a healthy mind and self-confidence, and hear from corporate leaders and professional speakers on educational attainment and achieving career goals.
MAXIMUM EXPOSURE: COLLEGE & CAREER PATHWAYS
This program provides students a clear pathway to productive college and career experiences.
The Pillars of Maximum Exposure are:
1. Personal Branding
2. Leadership & Influence
3. Preparation
4. Exposure
5. Maximizing Abilities